News
Check back here every once in awhile to stay informed about what's going on with our business.

Folds of Honor Charity
Decker's Uncle Sam Fireworks has joined with World Class Fireworks and Folds of Honor Foundation to give back to military families that have sacrificed so much for our freedom.
We are now offering a Folds of Honor red, white, & blue 500 gram multi-shot aerial cake. For each Folds of Honor firework sold, a portion of the proceeds ($10 from every 500g) will go directly to scholarship opportunities to children and spouses of fallen and wounded military.
After meeting the Folds of Honor founder, we are proud and excited to be part of this promotion.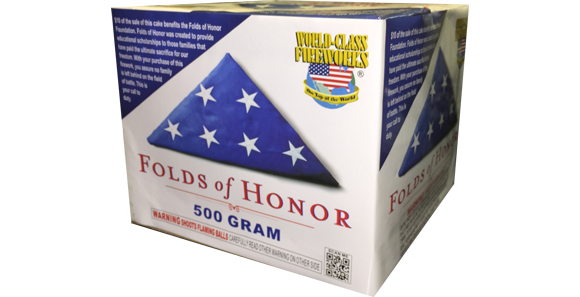 Folds of Honor Foundation
The Folds of Honor Foundation is a charity to provide scholarships and other assistance to over 1 million of the spouses and children of soldiers killed or disabled in service to our country. Visit foldsofhonor.org to learn more.
Open for the season (Memorial - Labor day)

Our store is OPEN for business for the fireworks season, every day from Memorial Day (last Monday in May) to Labor Day (first Monday in September) or later. See here for directions. See here for store hours.
See It Before You Buy It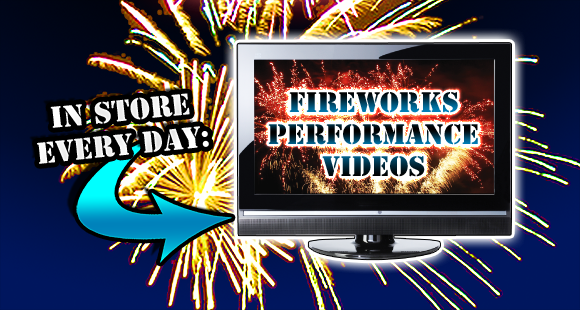 In-store we have interactive video kiosks to select fireworks products you want to see, where you can watch performance videos before you make your purchase. We also have a row of flat screen monitors down the 500g isle, displaying product performances of items on the shelves below the TVs. We make it easy for you to compare different products and choose the one that's right for you.
Father of the 500 Gram Dies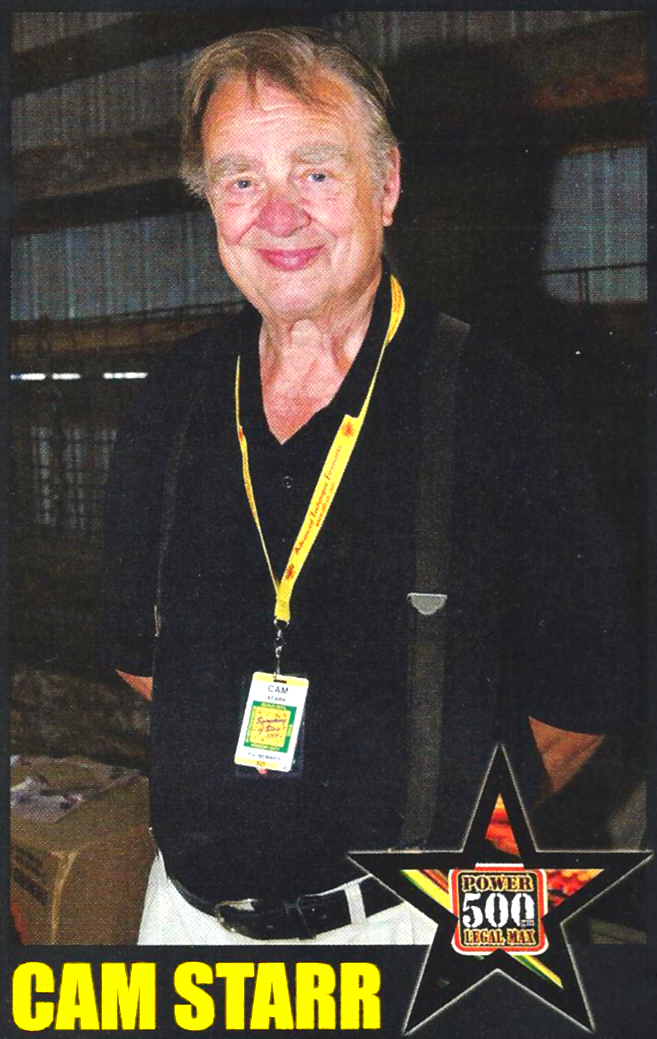 Cam Starr passed away unexpectedly, Tuesday, March 4, 2014, at the age of 77, after complications following surgery.
Cam was truly a legend in the fireworks industry. Starting his career in 1947 at the age of 11, he became well known and respected as the owner of Starr Fireworks in the Dakotas. He was the inventor and manufacturer of Starr Strobe Pots, Starr Aerial Shells, and some of the best American-made fireworks on the market.
Cam was known as the "Father of the 500 Gram". Cam opened up a whole new world of consumer fireworks for us when he helped create, and fought to legalize, the popular multi-shots that had been limited to only 200 grams before his efforts.
Cam was the founder of the National Fireworks Association, which has become the largest fireworks trade show in the US. He was currently serving as president of the NFA, after being reappointed in September of last year.
Those who knew Cam best, will remember him as the ultimate salesman. It was always a joy to listen to Cam when he was selling. He could paint a picture with words like no one else, and really make you feel the enthusiasm and love he had for fireworks.
Cam Starr will long be remembered and missed by his family and his many fireworks friends across the country.
Industry
For what's going on in the fireworks industry as a whole, see News from the APA.